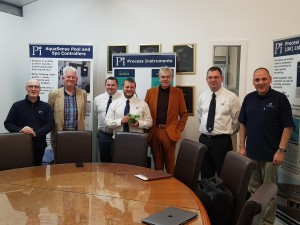 In November 2018, Pi welcomed one of their Chinese distributors, Shanghai LIM Mechanical & Electrical Co., Ltd. and one of their customers, HXDD, to the UK for product training.
Shanghai LIM are one of Pi's largest distributors, specialising in selling OzoSense ozone analysers into the industrial water treatment sectors in China. They have been working with Pi for many years, and Pi have formed a great friendship with Managing Director, Jason Gaojiang Long.
Jason's visit coincided with Pi's 20th Anniversary Party, which both Jason and Chenshan (HXDD) attended. As an anniversary gift, Jason presented Pi's Sales Manager, and Head Office contact for China, Dr. Rob Paramore with a trophy.
Dr. Rob Paramore said: "The training was a great success. In 2 days, we managed to cover all relevant material plus some exciting innovations currently in development. It was also great to have Jason and Chenshan at the party and judging by the amount of time they both spent on the dancefloor, I'd say that the party was also a success!"
Pi is very proud to be a British company exporting to China where, in the water treatment industry, British products are seen to be a high quality and robust option.
If you would like any information about Pi's range of products and how they may be suited to your application in your country, then please do not hesitate to contact us.